August 24, 2022
A Sustainable Closet & More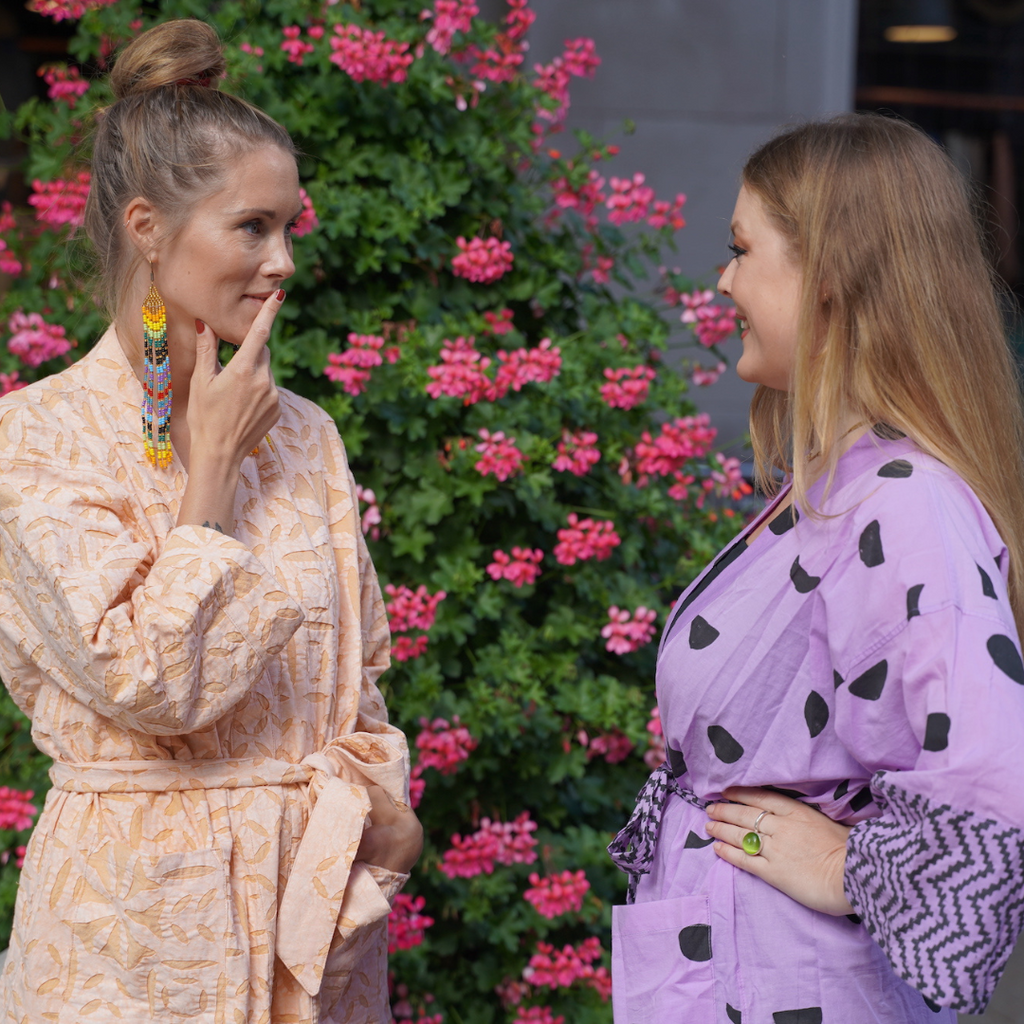 The only way we can engage with sustainable fashion is by becoming a conscious, educated consumer. It is our pleasure to introduce you to two wonderful ladies who are doing exactly that!
A Sustainable Closet is a platform for circular fashion users, second hand lovers and ethical brand seekers, trying to find their perfect closet while saving the planet. On their website, you can find education blogposts, interviews with fashion changemakers, recommendations for where to shop, and so much more!
It was our pleasure to interview Sophie Gripenberg and Isabelle from A Sustainable Closet and share their wisdom with you all!
What is your relationship with fashion and what inspired you to start A Sustainable Closet?
Sophie Gripenberg has for many years had an interest in fashion and clothes, but coming from a poorer background she didn't have the financial resources to buy what she wanted so fast fashion was the only choice. At the age of 22, she got her first walk-in closet but at the same age she started her bachelor's degree in peace- and development and got to learn more about the social and environmental costs of fast fashion. She decided to quit her member card at H&M and only buy ethically produced or second-hand clothing. A promise she still keeping almost to 100%. She started to write a blog about sustainable fashion in 2019 since so many friends and people in her network contacted her. They wanted to know where to buy certain items and where to find good second-hand shops. Throughout the years the blog became more of a platform to inspire more people to start their journey to change their relationship with fashion and clothes, reduce their impact and contribute to a positive change.
A Sustainable Closet came from the insight that enjoying fashion and being sustainable can actually go hand in hand as it did for Sophie. Isabelle came to join the growing concept of A Sustainable Closet after she found it during an Instagram scroll, and since April 2021 she's been the other half of the A Sustainable Closet team.
What is the vision of your platform? What change do you want to inspire in your community?
We want to be the world's leading destination for fashion inspiration. We want people to be able to feel inspired, enjoy and be guided on their sustainable closet journey without compromising their ethical values. We want to help people create a sustainable closet based on their needs, values and circumstances. This is where we are different from other fashion platforms, we don't include fast fashion or any other major fashion companies even though it would be good financially for us to do so. Neither do we only talk about second-hand or certain brands, we believe we are in no position to tell people exactly what a sustainable fashion industry or closet would look like. We want to invite more people to consider that question, ask themselves and start changing their behaviour and impact based on what they believe. We are just here to provide the community, knowledge and news that facilitates that change. 
For your blog, you have interviewed over 100 fashion changemakers. How do you define a "fashion changemakers" and can you share your favourite interviews so far?
We don't define them. This is the point of our interview series, we want to show the diversity of ways to make an impact and views on fashion and sustainability. The people we interview are normally recommended by others we have interviewed. Our readers are very good at recommending and asking for certain people's perspectives. What we try to do is to bring in a diversity of perspectives. We have people of different backgrounds, nationalities, professions, ages, gender and so on and we still try to improve that work. We want to be authentic in our interview series and see individuals for who they are and not any potential group they might belong to, at the same time we want to make sure that the arena is for anyone interested in the subject. We are appreciating interviews with people who do have catchy pictures since our readers love to be inspired by others who are creating their dream closet and style and we want to show how many beautiful ways you can dress and style in despite quitting fast fashion. 
It is hard to mention any favourites but we love the ones who have really gone in-depth into our questions to really elaborate on what a sustainable closet and industry is. And also those who are their personal stories on how and why they got interested in clothes and fashion in the first place.  
Amidst conversations about sustainability in fashion, what are the aspects that have been ignored or not talked about enough?
That a sustainable closet is individual. That fashion is art. That we all have different preferences, likes, times, wallets and so on. We believe that the majority of people want to make a good impact in this world, not pollute it or take advantage of workers, but they are not informed. And the ones who are informed has not been given good options on how to sustain their interest and creativity. 
We often only talk about humans as consumers and even though we are, and our consumption plays a huge role, we are way more than that. To understand why are the underlying reasons for consumption, the longing for clothes and the need for new outfits is way more important if we are going to tackle the issues of overconsumption. 
Further, the issues are systematic and shouldn't be something we shame or blame people for, we can all take responsibility yes as individuals but we need to increase the bar of conversation and bring it to the political arena and where laws are created and implemented. Fashion that harms people and the planet, shouldn't be allowed. Further bring the responsibility to the big companies that make profit without including the proper costs of production. 
But as a platform for sustainable fashion, we have chosen or area of impact, which are the individuals who love clothes and fashion and want to make good choices. No one can do everything and we believe there are good organisations raising the issues. We want to provide the solution. 
Where do you see the future of fashion lie?
It is closer, more local (not always), more personal, more individual, more playful, and more based on art. There are so many positive changes going on. Everything from circular loops of textiles, to ethical and small-scale production, increased access to second-hand shopping and selling. The future is bright, but we need to include the textile workers on the journey too. The families in the low and middle-income countries need to be able to be a part of the transformation, therefore global fashion is still needed and we need to create better terms to trade and distribute fairly. But fashion is here to stay, it doesn't have to be associated at all with increased extraction of natural resources. It can be more digital. It can be more creative in the ways we take care of what we already have. Because isn't this what fashion suppose to be in the first place? Creative! 
For all our readers, how can they create their own "sustainable closet"?
There are plenty of good recommendations among our change maker interview series but one area that is often neglected is the first step of knowing who you are, what your relationship with clothes is and why you use certain clothes during certain times. Really try to understand what is it you feel comfortable in, what is it you truly like, how do you want to feel and so on. There are so many good insights to get to know one yourself that will help you, in the long run, to circulate what you don't use and to only let clothes enter that are in line with what you truly want and need. A good piece of advice that we have used is that if you are going to buy something new for your closet (second-handed or not) ask yourself how this item makes you feel. If it is just a practical solution, it might be needed, such as socks, but if its something beyond that, like a dress, you should feel excited and happy about it. It doesn't matter otherwise if it's ethically produced or second-handed, because if you don't truly like it you won't use it. So make sure your sustainable closet has clothes you like to wear! Don't buy plenty of new ones, the ones you already have and love are the most sustainable clothes.
*****
ABOUT SOPHIE & ISABELLE 
Sophie Gripenberg is a sustainability professional with several years of experience working with sustainability in the humanitarian sector such as Red Cross and the UN. She has a trans-disciplinary background with a master's degree in socio-ecological resilience for sustainable development. Her major focus of impact, research, and consulting has been within the tourist industry, fair trade movement, organic food and farming, second-hand textiles, animal rights, and economic welfare models beyond GDP. 
For the blog, Sophie is wearing our Peach Appliqué Jacket Dress, Rainbow Naga Earrings, Kirti Kimono and Pattwa Anklet.
Isabelle is multi-creative with a strong bond to fashion and design. She grew up with seamstresses and had a constant habit of creating. Sewing, knitting, painting, you name it.  Isabelle holds an art degree in fashion marketing & communication and has throughout the years gained a 360 view of the industry by taking on several projects in fast fashion to high fashion. With experience from positions like stylist at Milan Fashion Week to Sales advisor, warehouse worker marketing coordinator and social media manager, Isabelle has seen the true colors of fashion which has completely changed her shopping habits, which used to be uncontrollable... Nowadays she only consumes and invests in vintage and pre-loved fashion pieces and rents the more extravagant pieces for events and parties.
For the blog, Isabelle is wearing our Lunar Kimono (collab with Moonah Wear)